With so many different barbells out there, it can be confusing to find which one is right for you. We've put together a barbell guide to help you figure out which one is best for your training needs! Whether it's a starter bar for your home gym, or picking which bar is right for your commercial gym, our barbell guide will help you decide!
Material (steel vs spring steel)
Steel is an alloy made from iron and carbon plus other alloying elements in various amounts to improve its mechanical properties compared to raw iron. Spring steel is usually a higher alloyed steel and has a higher yield strength compared to its counterpart, meaning it will have more elasticity (whip) during the lift. 
It's generally not as brittle and has a higher resilience when bending, meaning it'll bend during the lift but go back to its original shape. Our Beast Bar and Ultra Bars are made from spring steel, making them ideal for whippy movements such as the Olympic Weight Lifting movements and CrossFit.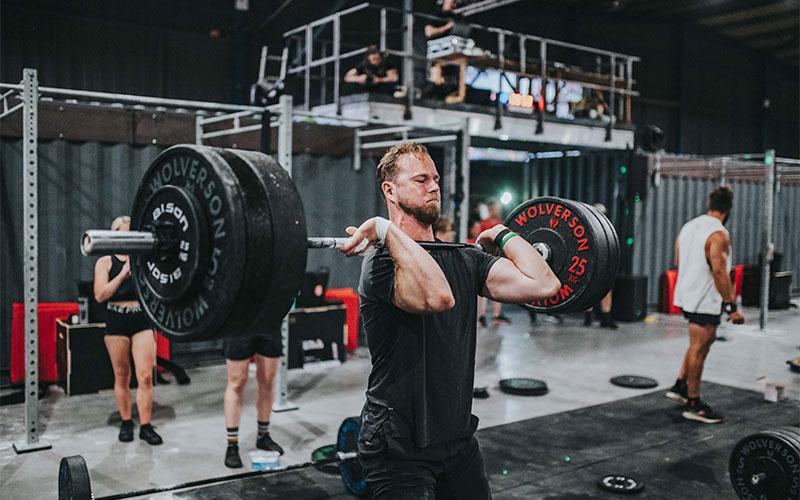 Tensile & Yield Strength
Tensile & yield strength is measured in pounds per square inch (PSI) and is used to measure how the barbell performs under intense loads. This illustrates the strength of the steel used in the barbell shaft and how much elasticity the barbell has. Stressing the barbell above its yield strength rating will result in permanent deformation once the weights have been removed. A lower tensile strength rating equates to a lower yield rating, you should avoid a barbell with less than 165k PSI rating. All of our barbells have a minimum tensile rating of 190k PSI, which is seen as the industry standard for barbells.

Bushings, Bearings & Rotation
Bushing and Bearings affect how much the sleeves spin, which is important when performing Olympic lifts such as the clean and jerk. A smooth spinning sleeve will minimise the torque rotation on your wrists as you perform the lift.
Our barbells use a mix of bushings and bearings depending on the design the barbell. A good quality bushing will be made from bronze, as materials such  brass and steel are a cheaper, less effective material. Our barbells only use bronze bushings, such as The Foundation Bar.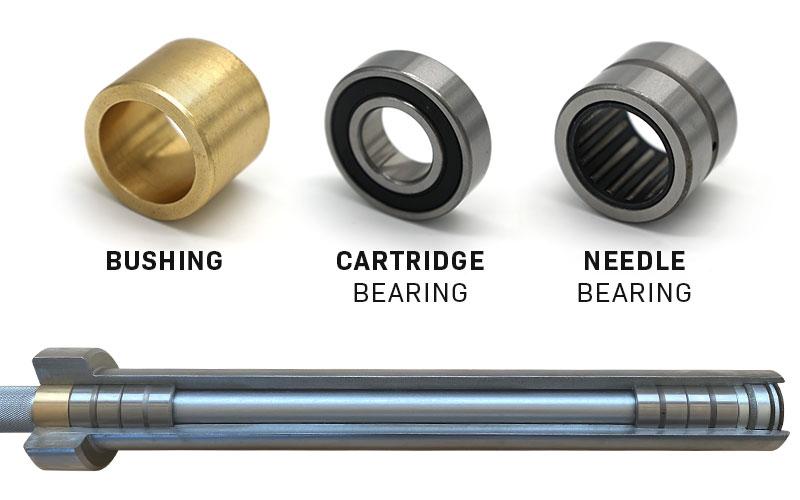 Needle Bearing - Contains roller needles and offers increased rotation and higher shock resistance

Cartridge Bearing - Sealed with ball bearings inside, offers less rotation compared to Needle Bearing
Bushing - Self lubricated bronze bushings that offer a slower rotation, commonly used in powerlifting bars
Whip
Whip is the elastic energy a bar holds when a lift is performed, in other words how much the barbell flexs during the explosive part of a lift. There is no official rating for 'whip', some athletes may disagree with how whippy a bar is! Whip only comes into play during heavier lifts, as it can take a heavy load for the bar to whip.
 A bar with high whip will bend during the lift and then return to a straight position, bringing the weight with it. This can help the lifter with heavier weight, as the whip can assist with the movement of the weight.
A skilled lifter will use the whip of the bar to their advantage, helping propel the weight upwards. A whippy bar is ideal for Olympic lifting and CrossFit and is less desirable for powerlifting, as the whip of the bar can become more unstable during static lifts. For example, if you are performing a heavy squat, you would ideally not want a whippy bar as this could have a negative affect on your balance during the lift.
Knurling
Knurling is the crosshatch pattern on the shaft of the barbell, which is designed to increase the friction between your hands and the barbell, improving your grip. There are different types of grip with different depths, the deeper the knurling, the more aggressive it will be, thus giving you better grip on the bar. If you use an aggressive knurled bar frequently, it can be rough on your hands.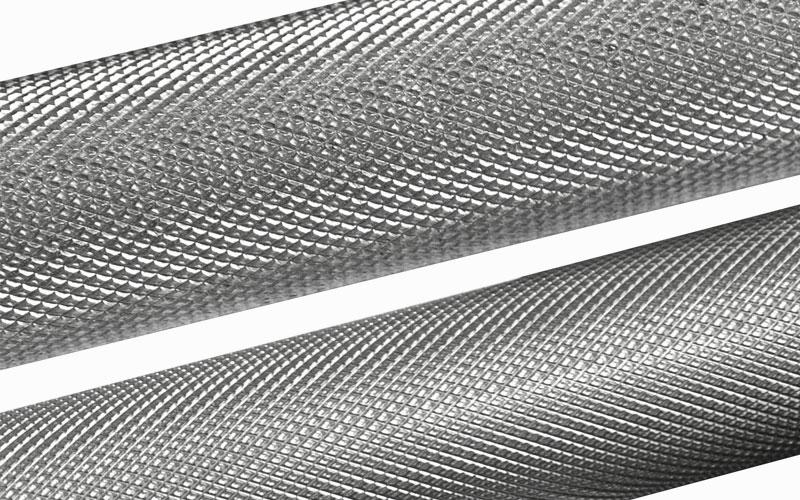 To help you decide, we've rated our barbells with 3 different types of knurling; passive, medium and aggressive. Passive and Medium knurling's are ideal for high repetition movements and won't tear your hands up! Our aggressive knurling is useful when performing heavy, static movements such as the deadlift, this knurling is featured on our Power Bar.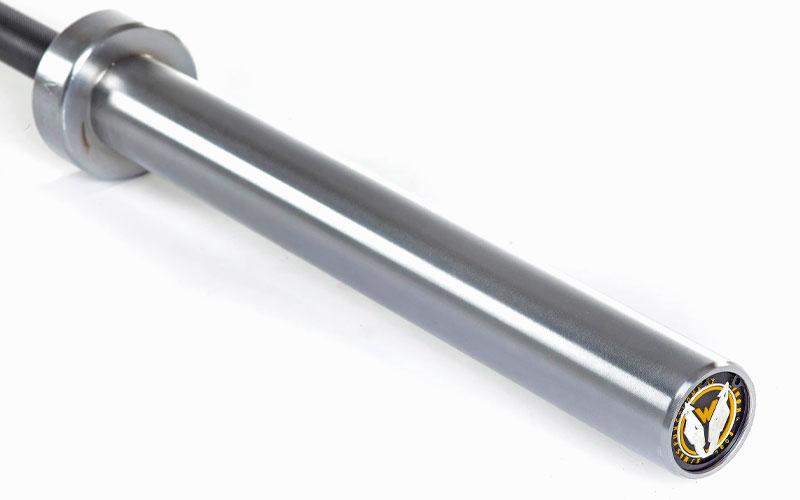 Sleeve Length

The standard sleeve length for a 7ft, 20kg Olympic barbell is 16" (406mm), but we do sell compact barbells with a shorter sleeve, such as the Compact Bar with a 30cm loadable sleeve. The shorter the sleeve, the less weight plates you will be able to load onto the bar, you must also take into consideration the collars that will be required on the end of the sleeve.
Rings
There are 2 types of the marking on barbells, these are the power lifting and Olympic lifting rings. The inner ring is for power lifting, these rings are 81cm apart from each other, the outer ring are for Olympic lifts and these are 91cm apart.
The majority of our bars, including the Ultra, Foundation, Infinity and Beast have dual markings on them. These bars will allow you to perform both the explosive Olympic lifts and the slower powerlifting lifts all on the same bar, making them ideal for CrossFit and garage gym settings.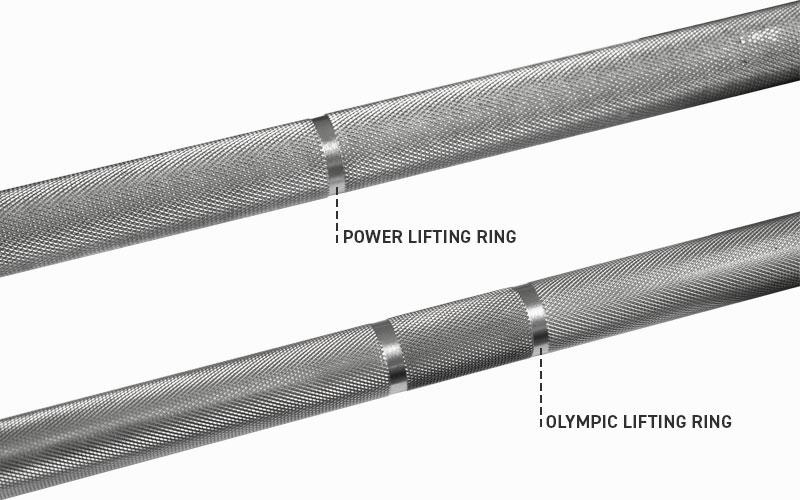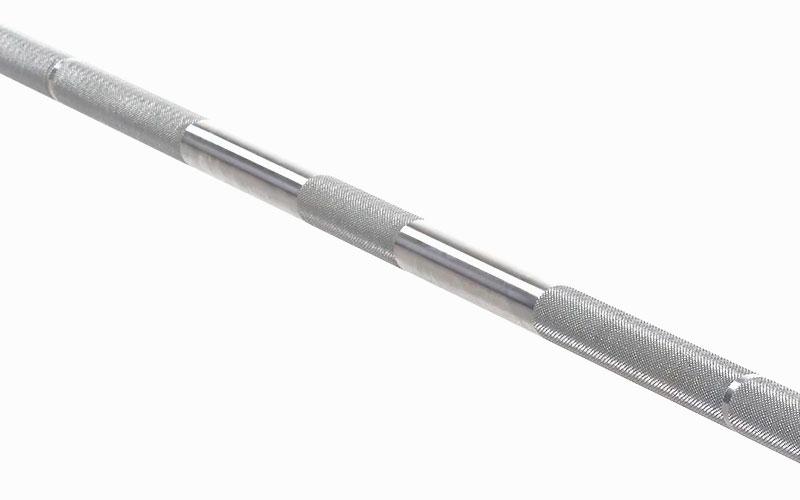 Centre Knurling
A centre knurling is used for additional grip when performing squats, the knurling will help grip your upper back and help the bar become secure. Multi-purpose bars such as the Foundation Bar does not have a central knurling, but the Power Bar does have one.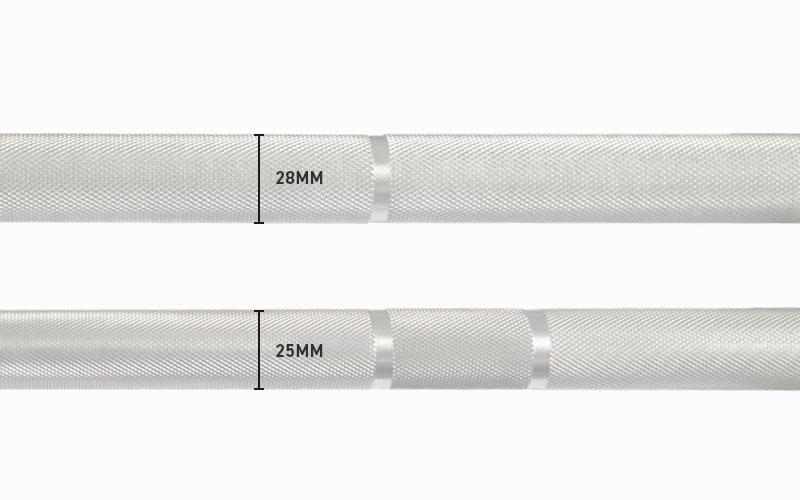 Diameter
As a rule of thumb, a men's barbell weights 20kg and has a bar shaft diameter of between 27-29mm and is 7ft 2" (2.2m) in length. A Women's barbell usually weighs 15kg, has a bar shaft diameter of 25mm and is 6 ft 5" (2m) in length. A youth barbell weighs 10kg, has a bar shaft diameter of 25mm and ranges between 60-67" in length (this size reduction is off the sleeves).
 
Ultra Bar
Beast Bar
Foundation Bar
Infinity Bar
Power Bar 
Deadlift Bar
 Compact Bar
Weight
 20kg
20kg 
20kg 
 20kg
20kg 
20kg
15kg 
Length
7ft 2"
7ft 2"
 7ft 2"
 7ft 2"
 7ft 2"
7ft 5"
5ft 7" 
Loadable Sleeve Area
415mm
415mm
415mm
415mm
415mm
395mm

305mm

Material
Spring Steel
Spring Steel
Steel
Steel
Steel
Steel
Steel
Tensile Strength Rating (PSI)
210k 
208k
 205k
 205k
 205k
 205k
 205k
Yield Strength Rating (PSI)
195k
190k
185k
185k
185k
185k
185k
Bearings
(per sleeve)
4 x needle
 2 x needle
2 x cartridge
 4 x needle
4 x needle 
N/A
N/A 
 4 x needle
Bushings
(per sleeve)
1
1
 1
1
2 x 3mm
2 x 5mm
2 x 3mm
2 x 5mm
1
Centre Knurling
No 
 No
 No
No
Yes 
No
No 
Knurling
Passive
Medium
Passive
Passive
Medium
 Agressive
Medium
Whip
High
High
Medium
 Medium
 Low
Medium 
 Medium
Diameter
 28mm
 28mm
 28mm
 28mm
29mm 
27mm 
 28mm
Coating
(shaft)
Black Hard Chrome
Black Hard Chrome
Black Hard Chrome
Titanium
 Hard Chrome
 Hard Chrome
Black Hard
Chrome
Coating
(sleeve)
Hard Chrome
Hard Chrome
Hard Chrome
Polish Chrome
Hard Chrome
Hard
Chrome
Hard Chrome
Use
CrossFit
Olympic
CrossFit
Olympic
General
CrossFit
Olympic
General 
CrossFit
Olympic
General 
Squat
Bench
Deadlift
Deadlift
CrossFit
Olympic
General
 
Women's Infinity Bar
Weight
15kg 
15kg 
15kg 
15kg 
Length
 6ft 5"
 6ft 5"
6ft 5" 
6ft 5" 
Loadable Sleeve Area
320mm
320m
320mm
320mm
Material
Spring Steel
Spring Steel
Steel
Steel
Tensile Strength Rating (PSI)
 205k
190k
 205k
 205k
Yield Strength Rating (PSI)
190k
180k
185k
185k
Bearings
(per sleeve)
4 x needle
2 x needle
2 x cartridge
4 x needle 
 4 x needle
Bushings
(per sleeve)
1
1 
1
1
Centre Knurling
 No
 No
No 
 No
Knurling
Passive
Medium
Passive
Passive
Whip
High
High
 Medium
 Medium
Diameter
25mm 
 25mm
25mm 
25mm 
Coating
(shaft)
Black Hard Chrome
Black Hard Chrome
Black Hard Chrome
Titanium
Coating
(sleeve)
Hard Chrome
Hard Chrome
Hard Chrome
Polish Chrome
Use
 CrossFit
Olympic
CrossFit
Olympic
General
CrossFit
Olympic
General 
CrossFit
Olympic
General